Braun Maschinenbau
The latest news
FEBRUARY 2021 | BYRNEBUILT DEALERSHIP IN AUSTRALASIA
Adrian Byrne of Byrnebuilt Engineering Ltd is the new trade representative for Braun products in New Zealand and Australia. Adrian has been servicing, repairing and installing Braun equipment for many years. We are delighted that he is joining our knowledgeable dealer network.
www.byrnebuiltengineering.co.nz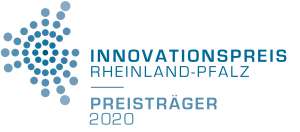 NOVEMBER 2020 | RLP INNOVATION PRIZE
The Ministry of Economics presented the Rhineland-Palatinate Innovation Prize jointly to Braun Maschinenbau GmbH and Robot Makers GmbH, in the category "Cooperation". We are pleased that this recognition – together with the Vineyard Pilot Assistant – draws greater attention to sustainable viticulture with environmentally friendly weed control.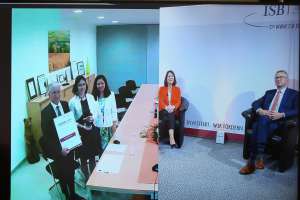 OCTOBER 2020 | ISB SUCCESS PRIZE
Investitions- und Strukturbank Rheinland-Pfalz (ISB) awarded this year's ISB Success Prize to the Vineyard Pilot Assistant by Braun Maschinenbau GmbH. Daniela Schmitt, State Secretary for Economics, and Ulrich Dexheimer, spokesman of the Management Board of ISB, presented the technology award via an online event. The ISB Success Prize is awarded every year for "the development of new products, processes, technology-oriented services and ambitious IT projects for technical applications".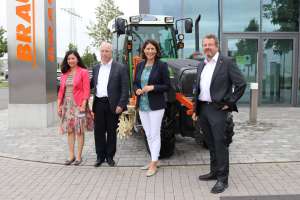 SEPTEMBER 2020 | VOCATIONAL TRAINING WEEK
As part of Vocational Training Week, State Secretary Daniela Schmitt from the Ministry of Economics, Transport, Agriculture and Viticulture of Rhineland-Palatinate, and President Dirk Fischer of the Palatine Chamber of Skilled Crafts visited Braun Maschinenbau GmbH. A tour of the company provided an opportunity for an interesting and informative conversation about the many job openings and training options in the skilled trades.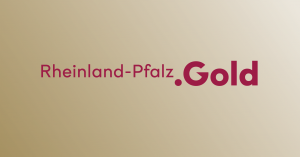 AUGUST 2020 | RHEINLAND-PFALZ.GOLD
Braun Maschinenbau is proud to be part of the campaign to promote Rhineland-Palatinate as a business location, and help position the state both within Germany and internationally.
For more information, visit https://gold.rlp.de/

MARCH 2020 | INASPRO
Braun Maschinenbau – together with other project partners in research and industry – was involved in InAsPro. The collaborative research project investigated integrated work system design in digitalised manufacturing companies, and reached a successful conclusion after three years.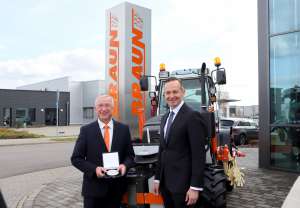 FEBRUARY 2020 | ENTERPRISE MEDAL FOR STEFAN BRAUN
On 28 February, the Economics Minister Dr Volker Wissing came to Landau in person to present Stefan Braun with the Enterprise Medal of the state of Rhineland-Palatinate. He praised Stefan Braun as a pioneer in the development of machinery for organic viticulture, and as a highly innovative global player.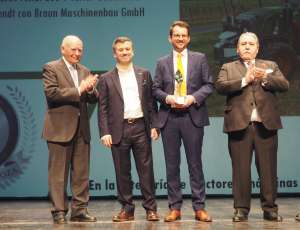 FEBRUARY 2020 | VINEYARD PILOT ASSISTANT TAKES SILVER
FIMA – Feria Internacional de la Maquinaria Agrícola – was held in Zaragoza, Spain, from 25‑29 February. Together with Fendt Spain, Braun was awarded the silver novedad téchnica innovation prize for the Vineyard Pilot Assistant.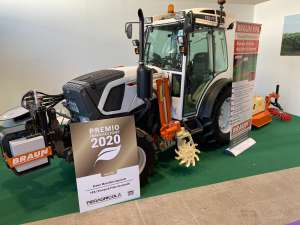 JANUARY 2020 | FOGLIE D'ORO FOR VINEYARD PILOT ASSISTANT
In Verona, Italy, the Vineyard Pilot Assistant won gold prize – the Foglie d'Oro – in the Foglie dell'Innovazione 2020 awards presented by Fieriagricola trade fair and L'Informatore Agrario magazine.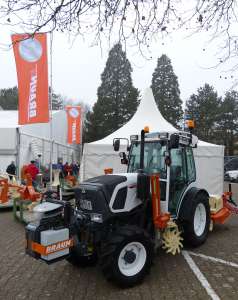 JANUARY 2020 | AGRARTAGE EXHIBITION NIEDER-OLM (RHENISH HESSE)
From 20-24 January, visitors to the Agrartage exhibition could find out about current topics and trends in the agricultural industry, and especially viticulture. Braun Maschinenbau was present again at this year's show, with several of our products for people to experience and expert advice offered by our team.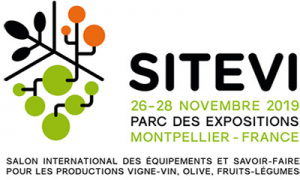 NOVEMBER 2019 | SITEVI EXHIBITION MONTPELLIER
This year, we are once again looking forward to welcoming a large number of visitors to our stand at the SITEVI exhibition in Montpellier. As well as the award-winning Vineyard Pilot Assistant, interested exhibition goers and customers can see the tried-and-tested product portfolio of Braun Maschinenbau GmbH and discover other innovations.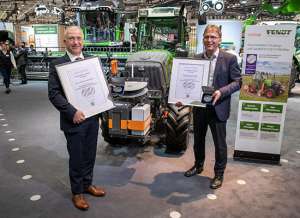 NOVEMBER 2019 | AGRITECHNICA SILVER MEDAL
Together with AGCO Deutschland GmbH, business unit Fendt, Braun Maschinenbau won the silver medal Innovation Award at Agritechnica 2019 for automated vehicle and implement control in viticulture.
The Innovation Award is presented by the German Agricultural Society (DLG) for leading innovations in the international agricultural machinery industry.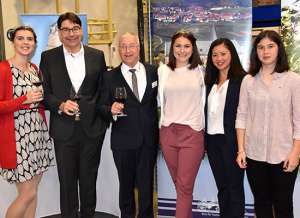 OCTOBER 2019 | MAYOR'S PRESS RECEPTION
Thomas Hirsch, the mayor of Landau, asked Braun Maschinenbau to organise and host his annual press reception. With a theme of "Made in Landau", the event highlighted particularly successful businesses that operate nationally and internationally.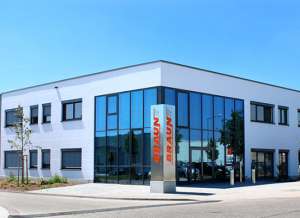 SEPTEMBER 2019 | GROUND-BREAKING CEREMONY FOR NEW BUILDING
Expansion at Landau site: in late summer 2019, construction work begins on a new production and storage facility totalling almost 3,000 square metres. The new building is scheduled to be ready for use in September 2020.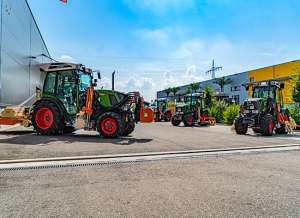 AUGUST 2019 | FENDT MEETS WINE
Exclusive presentation of a unique tractor/implement combination: well over a hundred guests accepted the invitation by Raiffeisen Waren-Zentrale Rhein-Main eG (RWZ) and VR Bank Südpfalz to get to know the unique all-in-one system by Fendt and Braun Maschinenbau for weed control in viticulture.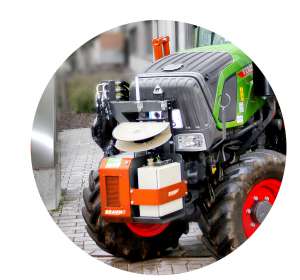 AUGUST 2019 | SUMMER VISIT BY ECONOMICS MINISTER
As part of his summer tour of the region, Dr. Volker Wissing, Minister of Economics for Rhineland-Palatinate, called in at Braun Maschinenbau. Minister Wissing was able to see at first hand our latest innovation: the Vineyard Pilot Assistant.